There is a lot of discussion going on about Robotic Process Automation (RPA) right from behind the closed doors of boardrooms, major industry conferences, to the office cafeteria. There are myths and there are advantages too that are discussed at length without any clarity. Media is also on the forefront of this topic, open any business newspaper or portal, and you are likely to see these headlines:
RPA delivers real cost savings for Financial Services in APAC: Report
The Hackett Group predicts rise of robotic process automation
Automation to kill 70% of IT jobs
We realised that there is a lot of chatter about RPA that needs to be addressed so people get a correct perspective about what RPA is and how is it going to help or impact them.
In this blog, we are going to cover various aspects of RPA that you must know to make an informed business decision. Here's what you will be reading in this blog.
What are we covering in this blog?
What is RPA and how did it come to be used in companies?
What are the benefits of RPA?
Where can it be used?
Case studies of successful RPA implementation
What are the common myths in RPA and why should you ignore them?
How to select the right RPA software and vendors?
Things to remember while implementing RPA
Are you ready? Great, let's dive into these topics.
What is RPA and how did it come to be used in companies?
Techopedia defines RPA as "the practice of automating routine business practices with "software robots" that perform tasks automatically." Human beings by nature dislike doing rote work due to their ability to think and perform high-skilled tasks.
RPA - The practice of automating routine business practices with software robots that perform tasks automatically.
Click To Tweet
So, when they are made to do rote work, they find it frustrating and over a span of time, start losing interest in the work they do. This results in errors and unnecessary rework or delay in the completion of  certain processes such as cheque clearing, credit card processing, employee onboarding and so on.
That's why organizations have slowly started shifting to RPA. RPA mimics the activities of the human beings and performs the low-skilled and repetitive tasks to enable human beings to focus on high-skilled activities such as engaging with customers and creating strategies to grow business. And the results have so far been great.
For example, Leslie Willocks, a professor of technology at London School of Economics cited an example where it helped an insurance company to reduce the time taken to handle 500 premium advice notes from two days to 30 minutes! According to Leslie, business automation has the potential to offer 30 to 200% ROI within the first year itself.
As RPA is poised to become the next big trend in the IT industry, it is important to know about its origins and understand how it became a part of organizations. You see, automation is not a new concept to human beings.
Automotive industry had already started automating some of their basic tasks from as early as 1960s when General Motors started using industrial robots in 1961.
However, the importance of automation was acknowledged around 1990s when organizations started using technology to simplify and streamline their work.
The predecessors of RPA
Way before organizations RPA came into existence, organizations had already started using automation to automate some of their rote tasks. One of the first forms of automation was screen scraping software.
Screen scraping software: Screen scraping software was used to collect screen display data from one application and translate it to another application for display. It was used to capture data from legacy application and display it in modern user interface.
For example, currently, screen scraping software is used to take output from legacy system running on IBM mainframe and display it as input on an application running on a PC. The only challenge of this software was it was not user-friendly to an average business user who had no knowledge of coding or programming language. This limitation compelled the organizations to look for other user-friendly technologies.
Workflow automation tools: The origin of the term workflow automation dates back to as early as 1920s when the industrial revolution took place. The term essentially means automating a defined set of actions required to automate a process.
However, the concept found a foothold in organizations in the 90s when they were introduced to the internet. Today, there are workflow automation tools available that help in reducing manual efforts required in automating the redundant tasks. It has helped organizations to reduce manual work and has improved the speed, efficiency, and accuracy in completing the tasks.
RPA: While the concept of Robotic Process Automation was introduced in early 2000s, it has found its foothold  in organizations recently. RPA relies on screen scraping and workflow automation. It allows users to manage workflows using drag and drop features, which is user-friendly and does not require coding knowledge. Also, unlike many web scraping tools, few RPA software use Optical Character Recognition (OCR) technology to adapt to the changes in websites, thus reducing the need for human intervention.
Few RPA software use Optical Character Recognition (OCR) technology to adapt to the changes in websites, thus reducing the need for human intervention.
Click To Tweet
With RPA gaining a stronghold in organizations, industry experts believe that by combining it with advanced technology such as machine learning and cognitive computing, organizations will be able to use RPA across all the industries in future, thus making them more agile and productive.
What are the benefits of RPA?
By now, you must have realized that RPA can be used to perform rote tasks and to minimize errors and maximize employee productivity. However, there's lot more uses of RPA than just these two. Let's look at them in detail.
Easily scalable: As times change, business processes too have to undergo changes to meet the demands of the customers and to stay ahead of the curve. With RPA, organizations have been able to scale their business to meet the expectations of the clients. RPA can scale better than screen scraping, macros, and scripts. RPA can replicate the process or task across different geographical locations and business units, and is flexible enough to align itself with the increasing demands of the client without using too many FTEs.
Ability to work 24/7/365: Unlike humans who have set working hours and holidays, RPA works continuously throughout the day and even year! As it is based on set rules, there is no scope for human errors. It can work tirelessly without committing any human error. This is useful especially in processes such as customer service where faster resolution to queries on a non-working day or after work improves the experience of the customer.
Ability to adapt to compliance rule changes: One of the major bottlenecks that organizations across various industries face is compliance. Compliance rules change frequently and thus require a system that can be easily adjusted to adhere to the changes.
For example, recently, the Federal Deposit Insurance Corporation (FDIC) has introduced a new regulatory rule called Part 370 to enable account holders to have access to their insured deposits in case of a bank failure.
Considering that the rule might undergo a change soon, industry experts are advising banks to use a flexible, automation tool to simplify their work and to adapt to future changes in the rule. RPA is one of those automation tools that can easily adapt to the changes in compliance without affecting the business.
Ability to provide analytics: While RPA is designed to perform rote tasks, it also provides analytics to the management. By providing real time updates such as number of transactions processed / failed, or the time spent on resolving a particular type of query; RPA helps the management to analyze their operations and take an informed decision to improve the process.
Less disruptive: RPA might be a disruptive solution to improve the business processes. But the process of implementing it is less disruptive and does not require a complete overhaul of IT systems. Unlike other automation software, RPA does not displace the existing IT systems. The beauty of the software is that it can be used with the existing systems and can be operated exactly the way your employees operate it.
Better organised: When there is lot of workload, humans tend to miss recording the output of their tasks. This results in mismatched documentation and poses a challenge for both the employees as well as the organizations. RPA automatically records the output on completing the task and leaves an audit trail. This helps the organization to keep a track on the activities and also acts as a backup to retrieve data in case of an unexpected system shutdown.
RPA automatically records the output on completing the task and leaves an audit trail.
Click To Tweet
Where can it be used?
The best part about RPA is it is not industry-specific. From manufacturing, finance, to even HR; RPA can be used anywhere to perform the daily tasks that requires lot of resources and time commitment to complete it. Let's look at few industries where RPA has revolutionised the way they function.
Insurance industry: Every day, an insurance company receives a voluminous number of claim requests. The entire process of receiving, validating, processing, and approving the requests takes so many days that it leaves the customer exasperated. To ensure faster processing, insurance companies have turned towards RPA to manage routine activities such as:
Underwriting process: RPA frees up 30% of the employee's time by gathering and processing data at a faster pace. The faster response time has helped the insurance companies to attract new customers.
Claims processing: RPA helps in gathering data from various sources into a centralized document to process the claims at a faster rate. It is believed that RPA can process the claims faster by 75%.
Manual data entry: Earlier insurance companies had to spend time and resources to enter quotations and insurance claims manually into the system. This can be a time consuming process. With RPA, insurance companies can complete these tasks at a faster pace and without any errors.
Policy cancellation: RPA helps insurance companies to complete the cancellation within 1/3rd of the time.
To ensure faster processing, insurance companies have turned towards RPA to manage routine activities.
Click To Tweet
Retail industry: Retail sector is one of the fastest growing sectors. According to a report by eMarketer, the retail industry is expected to reach $27.7 trillion in global sales by 2020. Considering that the retail sector is a customer-oriented sector, innovative technology solutions such as RPA help in improving the customer experience while buying. Here are few ways in which RPA is helping the retail industry grow:
Return processing: Return processing is a cost to the company. So, if the processing is done manually, it can further escalate the cost. With the help of RPA, retail shops can manage the returns by updating the inventory and the customer's billing and reimbursement process without adding to the cost or causing delay.
Customer support management: Customers expect the customer service team of companies to provide 24/7 support and even send real time updates. RPA helps the customer service team to provide quicker resolution to customer's query, thus leading to better customer experience.
Account management: RPA helps in invoice processing, accounts payable, accounts receivable, and accounts reconciliation processes. RPA also helps in financial closing, gathering, and consolidating transactions and reconciling them in ERP. RPA has helped the accounts team to perform their daily functions at a quicker pace with minimal errors.
Logistics and supply chain management: An efficient logistics and supply chain management is the key to success for a retail company. With RPA, retail companies can manage their logistics and supply chain management efficiently. From sending automated emails to customers, suppliers, distributors when an order is placed, shipped, and delivered; to maintaining the inventory levels to provide an insight to the retailers of the stock of products available in the warehouse, RPA helps in maintaining the supply chain process efficiently.
Considering that the retail sector is a customer-oriented sector, innovative technology solutions such as RPA help in improving the customer experience while buying.
Click To Tweet
Manufacturing industry: The manufacturing industry has always been the early adopters of automation as they have been using robots on their shop floor to manufacture products at a faster pace and with precision. However, the manufacturing companies required technological intervention in their back office operations to help them increase productivity and provide better output. Manufacturing companies have been using RPA in their backend operations to save up to 40% in various areas of work. Here's how RPA is helping the manufacturing companies:
Bill of Material (BOM): BOM comprises the list of raw materials, components, sub components, and other items required to create a product. The document is so crucial that a single error in the list can lead to massive losses to the company. RPA helps the companies to create an error-free BOM to enable the company to complete the production on time.
Invoice processing and purchase order management: RPA helps in processing invoices from vendors by scanning, reading, and checking the invoice against the purchase order. RPA helps in verifying orders, checking the bills, and ensuring that there are no duplicate orders placed.
Logistics data automation: RPA helps customers get real time updates on the delivery of their product. It also provides the manufacturers an insight on the best available freight and insurance options that they can avail to deliver the product, thus saving on costs.
Manufacturing companies have been using RPA in their backend operations to save up to 40% in various areas of work.
Click To Tweet
These are just few top industries that we have covered. To know how RPA has been playing a key role in revolutionising the way other industries work, stay tuned for our blogs.
Case studies of successful RPA implementation
We have seen how RPA has been helping industries in improving their processes and enhancing customer experience. However, let's look at few real life case studies to give you a better perspective on how RPA can improve your business processes.
#1 ComTec reduces the Total Cost of Ownership (TCO) of IT team using RPA
The client, a Fortune 500 insurance company, wanted to reduce the TCO of its IT team. They asked ComTec to automate the execution and monitoring process of batch process. The ComTec team segregated the project into three stages:
Discovery: Here, the team analyzed the current manual processes such as executing jobs on UNIX server, transferring files to UNIX server, downloading the files from the server, and validating various aspects such as – input file, result file, mailbox monitoring, and application monitoring on UNIX.
Develop: In this stage, the team used UI path to develop three bots to schedule and execute the jobs automatically.
Deliver: In this stage, the team delivered the three bots –
– TCC job monitoring bot to validate and execute jobs in UNIX and to monitor the mailbox
-SAP job monitoring to execute jobs on SAP, monitor them, and escalate in case of any challenges
-Interface monitoring to verify the job status and provide real-time updates to all the stakeholders via email, which is also published on SharePoint.
The solution helped the organization save 6700 man hours of effort per year.
You can read the entire case study here.
#2 Infosys BPO simplifies the insurance process for a leading finance and insurance service company
The client, a leader in providing best-in-class technology platforms and service solutions for finance industry, receives over 830K policy requests every year that has to be processed by the agents manually. The agents received these requests in different formats in the admin system.
The agents had to standardize the entries by entering the data again manually into various applications. This was a time-consuming process. To add to the woes, the processes had 10%-30% variation across the clients due to which the agents had to put it extra efforts to standardize the entries. The process became so cumbersome that after sometime the agents experienced high frustration level, which seeped into their work too.
Infosys BPO studied the client's processes thoroughly to identify the areas where RPA can be implemented. After studying the process, Infosys BPO deployed bots to automate the processes. Now, the agent has to simply enter the information to be updated in an excel template. The robot automatically reads the excel sheet and updates the various applications for respective policies.
It also automatically generates and sends letters to the client to the client to inform them the status of the requested changes and documents it in folders for future reference. The RPA solution has reduced the manual efforts by 58% and has improved the processing rate by 70%.
You can read the entire case study here.
#3 Ernst and Young helps in improving the process of a top-30 US bank using RPA
A top-30 US bank was spending lot of time on rule-based, repetitive mortgage processes such as document ordering, data entry, and data validation. The mundane process led to error in the process.
The bank collaborated with Ernst and Young (EY) to increase productivity, improve the quality of data, and to reduce regulatory risk within the mortgage banking operations group. The banks chose the RPA platform based on certain parameters such as the proven track record of the RPA software in the industry, ease of use, and commercial and licensing flexibility.
The implementation of RPA increased the team's efficiency by 2-3x, and saved $1 million with zero errors in processing the mortgages. After the successful two-month pilot project, EY and the bank collaborated again to identify the process in global operations that can be automated to increase efficiency and reduce risks.
You can read the entire case study here.
What are the common myths in RPA and why should you ignore them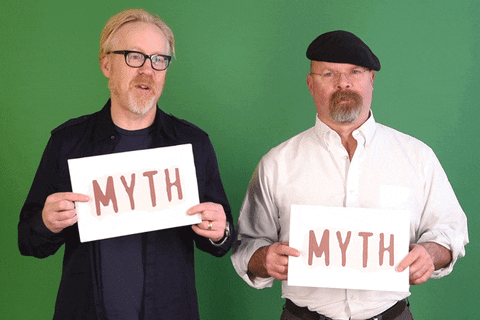 Like all new technology, RPA too has been mired in controversies. From fear of loss of jobs to the high cost of implementation, there are a lot of concerns about RPA. Let's look at some of the common myths that people have about RPA and why you should ignore them.
#1 – RPA will replace the humans
Ok, let's begin with the most common fear that most people have about implementation of RPA. Employees fear that automation will replace them. This is where organizations have a critical role to play. The onus lies on the management to explain to the employees that RPA will only help them by performing rote tasks, leaving them with time to focus on high-skilled jobs. Automation is not new to organizations. So, with correct measures such as reskilling the employees and teaching them to accept robotic workforce as their coworkers, organizations will be able to reduce the fear of employees.
#2 – Users need to know programming language to use RPA
Unlike other automation softwares, RPA is user-friendly. You do not require to know any programming language to use RPA. The RPA vendors have developed the software in a way that it can operate without any hassles and can be used by even those who do not have knowledge about programming. They only need to understand how to use the software and how to troubleshoot it in case of any problem.
#3 – RPA is not cost-effective
This is a major concern for organizations who are looking for cost-effective solutions. While it is true that RPA can consume up to 20% of the total IT budget, a report by PWC suggests that it is common for organizations to see ROIs between 300% to 800%. So, when you consider the implementation cost, compare the results achieved after implementation, and measure the ROI, you will find it to be beneficial to the organization.
#4 – RPA is a fad
People believe that like its predecessors and many automation software, RPA will fade out too. While it is true that there will be new technology that will be introduced to help organizations and to make work simpler, RPA will continue to be a part of the organizations. The primary reason being RPA helps in reducing the time and efforts taken to complete certain tasks and does not require a complete overhaul of legacy systems. On the contrary, RPA combined with artificial intelligence (AI) and machine learning will only help in improving the processes.
#5 – Only large companies can afford RPA
As mentioned in point no.3, there is no denial that RPA can prove to be a costly investment, which is why a lot of small and medium businesses (SMB) are hesitant to use RPA as compared to large enterprises. It is important for SMBs to relook at their processes and decide if it requires automation. If the management feels that automation will help them save costs, improve their services and grow their business further, then investing in RPA will be the right decision to meet its business objectives.
It is important for SMBs to relook at their processes and decide if it requires automation.
Click To Tweet
#6 – RPA is 100% automated and does not require human intervention
Organizations believe that RPA automates a process completely and does not require any human intervention. Well, this is far from the truth. RPA might automate the tasks, but it requires human to program the bots and to supervise them. Sometimes, in case of an issue, the software flags it to a particular department to take further course of action. So, to relate it with point no.1, while RPA helps in automating the process and decreasing the workload of human beings, it still requires human supervision to complete the tasks successfully.
#7 – RPA is the same as other automation tools
This is yet another classic myth about RPA. While the end objective of RPA is similar to other tools, that is, to automate the processes; they are as different as chalk and cheese. The difference begins with skillset. While traditional automation tools required a technical resource to set it up and use, RPA is IT-independent and can be used by anyone. The other difference is that while RPA can be quickly implemented within weeks without replacing the legacy systems; traditional automation tools take months to be installed and are usually system agnostic.
You can read more about these myths here. You will come across misconceptions and misleading news related to RPA, however, we advice that you should ignore these myths and instead focus on the ROI that it delivers, determine if it aligns to your business objective, and then take an informed decision.
How to select the right RPA software and vendors?
Selecting the right RPA software and the vendors who provide them is going to be tough especially when the space is crowded with vendors promising to sell the best RPA software to the organizations. Adam Devine, SVP of Work Fusion, in this article published on Sandhill, says RPA has been sold by the vendors of the marketing team as a software with AI capabilities, when in reality, it is just a rule-based software. So, it is important that you be wary of these false marketing gimmicks while choosing the RPA software. We are giving you a quick checklist on things that you must consider while choosing the right RPA vendor and software.
How do you choose the right vendor?
Thanks to the overwhelming demand for RPA software, almost every company is selling it in a bid to earn quick profits. Here's what you must ask yourself while selecting a vendor. If the answer to most questions are positive, you can shortlist them for further perusal.
Is the vendor obsessed about innovation? RPA is an evolving technology. Your company will need to keep pace with it to remain ahead of the competition. If your vendor is obsessed about innovation and offers major and minor upgrades frequently, then you can consider them. You can ask your vendor to share the roadmap with you to determine if they have a robust plan in place or if they might become obsolete.
Does the vendor provide training? It is important to be trained in order to use the software effectively. One of the first things that you must check is whether the vendor will provide you training to use the software. The training can be in any form – onsite, online, remote access, videos, or in text format. The ultimate objective is your team should be able to understand how to use the software and troubleshoot it in case of any hassles.
Who is the end user of the product? This is a question that you must ask yourself before asking the vendor. There are many RPA software that require extensive knowledge of programming language. If you require RPA for your developers, then these may be the apt software for you. However, if you need it for your other processes such as accounting and customer service, then you have to choose a product that is user-friendly and that does not require programming knowledge.
Is the customer support team proactive? This is one of the critical prerequisites that you must look for while selecting a vendor. Like every new technology, your employees may face some roadblocks while using the software initially. You would require a vendor who will support throughout the RPA journey. Check the reviews of the vendors to see if there is any criticism regarding its service. If the vendor provides excellent customer support service and if you find them proactive throughout the journey, then you can shortlist them.
You would require a vendor who will support throughout the RPA journey.
Click To Tweet
What are the things that you must look for in the software?
While selecting the right vendor, you must also check if the following features are available in the software. This will help you make an informed decision.
Is the software easy to integrate? As we discussed in the earlier sections, one of the best features in RPA is it does not overhaul the entire legacy system. It can be easily integrated with the existing systems too. Select a software that can be seamlessly implemented and integrated with the existing systems as implementing a new technology can cost higher than the technology itself.
Can the software be scaled easily? There are peak times when you would require more software bots to complete the processes. In such cases, the vendor should be able to scale up the capacity of the robots and scale down when there is less demand for robots. The software should also be scalable in tandem with the growth of the company. So, look for scalability while selecting the software.
Does the software provide analytical reports? An ideal RPA software should be able to gather, organize, and analyze the operational data and provide a detailed analytical report about the process to the management. This will help the management to identify the bottlenecks in the process and fix them to improve the process.
These are just some of the factors that you must look for while selecting the right vendor or software. For a detailed overview on the parameters to be considered, check out this handbook prepared by Kofax – one of the leading RPA vendors.
Things to remember while implementing RPA
 Now that you have understood RPA, let's quickly look at things that you should consider before implementing it.
#1 – Choose the process that you want to automate first
Before implementing RPA across the organization, first identify a process for a pilot project. Once, you are convinced of its benefits, you can choose other processes too. You can also choose if the entire process has to be automated or if you would like to automate only a part of it. Either ways take time to understand the process and the effect it would have after automation before choosing it for the pilot project. Analyze if automation is really the solution for improving the process or if it can be reengineered in another way before opting for it.
#2 – Reskill your team
Human supervision is required in automation to ensure the hygiene of the process. Explain to them how RPA works, how will it change the way the process takes place, what role will they be playing in the entire process, and what measures should they take while deploying the software. This is the time to identify the skills gap in your employees and train them so they can adapt to the changes effortlessly. Reskilling your team is extremely important for the smooth operation of RPA.
Human supervision is required in automation to ensure the hygiene of the process.
Click To Tweet
#3 – Allocate budget for automation
Automation is going to be a costly investment. So, ensure that your management has allocated enough budget for implementing automation. You have to remember while few processes may show immediate results in few months, there are few processes that would take longer time to provide a good ROI. So, you will have to prepare yourself to explain this to your management before allocating the budget.
#4 – Define your objectives clearly
This is one of the most crucial steps to be considered while implementing RPA. Define your objectives such as why do you require automation, what are the end goals that you wish to achieve through automation, and how will you implement it before looking for vendors and software. Set realistic goals and define a proper roadmap on how you will implement it across the organization.
You will also have to communicate to your stakeholders the set of limitations in the automation software to ensure that they have realistic expectations from it. Be prepared to answer questions such as – is RPA really necessary for the process? What will be the key performance indicator (KPI) for the process after implementation? How will we measure its success? What will be the alternative if RPA does not work? The answer to these questions will also help you define the goals better.
#5 – Select the right vendor and the software
Once you have defined the objectives, convinced your stakeholders to implement automation, and identified the process to be automated, select the right vendor and software based on the parameters that we have discussed in the above section.
Summary
We have tried to answer address as many concerns as possible about RPA in this blog. Just to give you a quick summary, here are the important things that we discussed in the blog.
#1 – RPA is beneficial for organizations that would like to automate their process, reduce cost and efforts on rectifying human error, and to maximize the productivity of the employees.
#2 – RPA is highly flexible and scalable and does not require a complete overhaul of legacy systems.
#3 – RPA is not industry-specific and can be used to make daily processes in industries such as Finance, HR, and retail efficiently.
#4 – Selecting the right vendor and software is important considering that there are so many software available in the market. It is important to read between the lines and compare and analyze different softwares before choosing the right one.
#5 – It is important to set clear objectives, communicate them to the stakeholders, identify the process to be automate, and reskill the employees before implementing RPA.
If you have any doubts regarding RPA, please feel free to call us or email us. We will be happy to answer your questions.